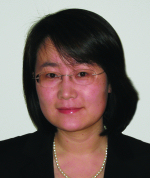 Dr. Ting Bao (photo) from The Sidney Kimmel Comprehensive Cancer Center at Johns Hopkins, in Baltimore, Maryland tells us, "Despite recent advances in pharmacologic antiemetic therapy, additional treatment for breakthrough chemotherapy-induced nausea and vomiting is needed.
What about acupuncture?
It's safe with minimal side effects.
Several studies suggest it effectively controls chemotherapy-induced nausea and vomiting.
A recent meta-analysis of those studies demonstrated that acupuncture significantly reduced the proportion of patients experiencing acute chemotherapy-induced vomiting.
However, acupuncture didn't alleviated acute chemotherapy-induced nausea or delayed its onset.
The bottom line?
Dr. Bao says, "These results were limited by the fact that they predated the use of aprepitant [Emend], and that only 1 or 2 acupuncture points were stimulated during acupuncture treatment."
Future studies should address these issues.
5/23/09 17:47 JR