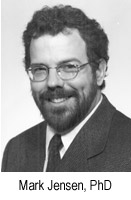 Dr. Mark Jensen (photo), who is Professor and Vice Chair, Department of Rehabilitation Medicine at the University of Washington, in Seattle has published a series of studies on this topic.
Here's a summary of his most recent research, and an overview of the past 3 years.
First, the details.
37 adults with spinal-cord injury and chronic pain were randomly assigned to receive 10 sessions of self-hypnosis or EMG biofeedback relaxation training for pain management.

EMG biofeedback relaxation involves providing continuous information on the state of tension or pain, with a view to achieving pain control.
And, the results.
Both treatments decreased pain intensity.
Only those in the self-hypnosis group reported statistically significant decreases in daily average pain, which were maintained for 3 months.
Self-hypnosis was also associated with significant short-term (less than 3 months) improvement in perceived pain control.
The bottom line?
In an earlier study, about 20% of 26 patients with chronic pain "obtained substantial and lasting long-term reductions in average daily pain following hypnosis treatment."
From a larger perspective, Dr. Jensen reports that among 117 adults with traumatic spinal cord injury and chronic pain, 73% had tried at least 1 of 7 alternative pain treatments. The most frequently tried were massage, marijuana, and acupuncture.
Greatest relief was provided by massage (6 on a 0-10 relief scale) and marijuana (7 on a 0–10 relief scale).
Relief from various treatments, including most drugs, tended to last only minutes or hours. However, pain relief from alternative treatments such as massage, acupuncture, and hypnosis was reported to last for days in 25% to 33% of those who tried these treatments.
Here's a list of CAM treatments used by these patients. The numbers following the treatment include 1) % that used the treatment, 2) level of relief on a scale of 0-10, and 3) the most commonly reported duration of relief in minutes, hours, etc.
Massage: 55%, 6, hours
Marijuana: 32%, 7, 80, hours
Acupuncture: 28%, 3, hours
Chiropractor: 27%, 5, days
Biofeedback/relaxation: 23%, 4, hours
Magnets: 17%, 2, hours
Hypnosis: 9%, 3, days
Other: 17%, 6, hours
5/232/09Â  13:34 JR