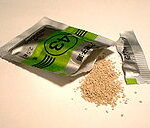 Rikkunshito is a popular Japanese traditional medicine that's used in Japan to treat various gastrointestinal disorders.
Researchers from Osaka Medical Center, in Japan studied the effects of rikkunshito on delayed gastric emptying in handicapped patients.
First, the details.
The medical records of 9 profoundly handicapped patients (age 1-19 years) were reviewed.
All had delayed gastric emptying.
All were given rikkunshito 0.3 grams/kg, with the aim of accelerating gastric emptying.
And, the results.
Vomiting and bloody vomiting were relieved with rikkunshito administration in 4 patients.
The lag in emptying contents from the stomach into the small intestine decreased significantly when the patients took rikkunshito.
The bottom line?
The authors concluded, "Rikkunshito resulted in symptomatic relief and improved gastric emptying in profoundly handicapped patients with delayed gastric emptying."
An earlier study, also by researchers at Osaka Medical Center reported, "Rikkunshito improved gastric emptying and ameliorated postoperative symptoms of patients who had undergone a pylorus-preserving gastrectomy," a surgical procedure that's used in some patients to treat early stomach cancer.
Rikkunshito appears to improve delayed gastric emptying by blocking the 5-HT3 (serotonin) receptor pathway, which is involved in controlling gastric secretion and stimulating smooth muscles and vasoconstriction.
2/7/10 20:33 JR