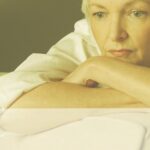 Previously, researchers from Iowa State University, in Ames reported that soy protein with isoflavones reduced the loss of lumbar spine bone in midlife women.
In this study, they examined the effects of isoflavones (extracted from soy protein) on bone mineral density (BMD) in postmenopausal women who do not have osteoporosis.
First, the details.
412 healthy postmenopausal women were assigned to a treatment group.

Soy isoflavone 80 mg/day
Soy isoflavone 120 mg/day
Placebo

Everyone received 500 mg calcium and 600 IU vitamin D(3).
Neither the patients nor researchers know the treatment given — double blind.
And, the results.
Treatment had no effect on the spine, femur (thighbone), femor neck, or whole-body BMD.
During the study, BMD declined regardless of treatment.
Age, whole-body fat mass, and bone resorption were common predictors of BMD change.

After adjustment for these factors, 120 mg (compared with placebo) was protective for femoral neck BMD compared to the placebo.

No side effects were reported.
The bottom line?
The authors concluded there was no "bone-sparing effect of extracted soy isoflavones, except for a modest effect at the femoral neck."
Others have also reported no change in BMD with soy.
1/14/10 22:55 JR