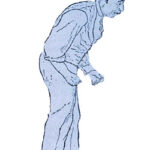 Researchers from the Washington University School of Medicine, in St. Louis, Missouri compared the effects of Tango, Waltz/Foxtrot, and tai chi.
First, the details.
75 people with Parkinson's disease were assigned to Tango, Waltz/Foxtrot, tai chi, or a no treatment group.
Participants completed the PDQ-39 before and after participation in 20 classes, or within 13 weeks in the case of the no treatment group.
And, the results.
Tango significantly improved on mobility, social support, and the PDQ-39.
There were no significant changes in health related quality of life with Waltz/Foxtrot, tai chi, or no treatment.
The bottom line?
The authors concluded, "Tango may be helpful for improving health-related quality of life in Parkinson disease because it addresses balance and gait deficits in the context of a social interaction that requires working closely with a partner."
The tango is a sexy dance of seduction. Although it may seem mysterious, the basic steps of the dance are relatively simple.
To get you started, here's the Tango dance scene from the movie Scent of a Woman (1992) where Al Pacino plays a blind retired lieutenant colonel. The music is "Por una cabeza" by Carlos Gardel, and the girl dancing is Gabrielle Anwar. She currently plays Fiona in the TV show, Burn Notice.
For the beginner, here are the basic steps.
1/10/10 18:44 JR