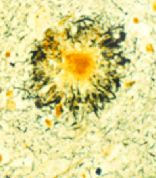 Dr. James Galvin from the Alzheimer's Disease Research Center at Washington University School of Medicine in St. Louis, Missouri has written are review on Medscape.
Here are his thoughts on the value of nonpharmacologic strategies in support of drug treatment.
Music therapy
It may benefit some patients.
In particular, classical music can produce transient increases in cognitive performance (reasoning).
Caregiver singing has improved patient well-being.
Patients appear to regain skills necessary for activities of daily living.
Singing increased patients' intention, purpose, and competence to perform tasks and improve communication skills.
Exercise
Exercise delays cognitive decline for 24 months and improves memory and frontal lobe functions (voluntary movements).
Exercise training plus educating caregivers about behavioral management techniques improves physical health and depression.
Montessori-based programming
Positive results, even in those with advanced disease, include more constructive social engagement and enjoyments.
Examples of Montessori-based activities used in dementia care include the following:

Placing colored golf balls in muffin pans
Matching pictures of peoples' facial expressions to their mood
Small group activities such as memory bingo and group sorting
The bottom line?
"It is increasingly evident," says Dr. Galvin, "that a combination approach is best suited to address patient health and safety."