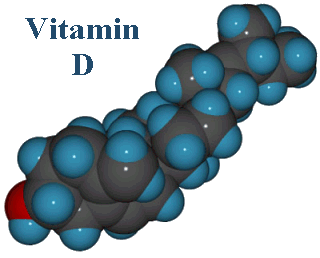 Low maternal vitamin D intake during pregnancy is associated with asthma symptoms in early childhood.
Now, here are the results from the first study of the relationship between vitamin D blood levels in childhood and asthma severity.
First, the details.
616 asthmatic Costa Rican children between the ages of 6 and 14 years were studied.
The relation between 25-hydroxyvitamin D levels (the major circulating form of vitamin D) and markers of allergy were compared.
And, the results.
28% of the children had insufficient blood levels of vitamin D (less than 30 ng/mL).
Low vitamin D levels were significantly associated with higher total IgE and eosinophil counts (markers of allergic responsiveness).
Increased vitamin D levels were associated with reduced odds of hospitalization, use of anti-inflammatory drugs, and increased airway responsiveness during the previous year.
The bottom line?
The authors concluded, "Vitamin D insufficiency is relatively frequent in an equatorial population of children with asthma. In these children, lower vitamin D levels are associated with increased markers of allergy and asthma severity."
Lower vitamin D levels could be due to a lower socioeconomic level of the parents. However, Costa Rica has socialized healthcare and high literacy, which should offset this potential confounding factor.
It's also possible that these kids just suffer from poor overall nutrition, or that children with asthma are spending too little time indoors and out of the sunlight, according to the authors.
In an accompanying editorial, researchers from the UK point out that in the absence of dietary supplementation, humans obtain about 90% of their vitamin D from sunlight exposure vs. 10% from diet. The increasing tendency to stay indoors and the promotion of sunshine avoidance to prevent skin cancer by covering up and using sunblock are the most likely reasons for inadequate vitamin D status.
"It is difficult to compensate for declining sunlight-derived vitamin D by dietary means alone because vitamin D is naturally present in very few foods (oily fish, fish liver oil, egg yolk), although in some countries margarine and/or milk are fortified."
Is this a case of unintended consequences following widely promoted but inadequately researched public health policy pronouncements by groups such as the American Academy of Dermatology?
4/23/09 15:25 JR