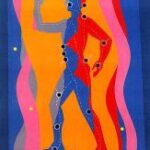 Researches from the University of Western Sydney, in New South Wales, Australia reviewed the effectiveness of acupuncture during pregnancy and birthing.
First, the details.
The authors reviewed the results of studies that evaluated the role of acupuncture during pregnancy and birthing.
And, the results.
A small number of studies suggest there is benefit from acupuncture to treat nausea in pregnancy.
There also appeared to be promising evidence for acupuncture to manage back and pelvic pain, induce change in breech presentation, and treat pain associated with labor.
The bottom line?
"Evidence is beginning to consolidate that acupuncture may assist with the management of some complaints during pregnancy," say the authors.
"However, they conclude, "definitive conclusions about its effectiveness cannot be reached and further research is justified.
Last year, their colleagues at the University of Melbourne in Australia reviewed the results of 3 acupuncture studies and concluded, "Limited evidence supports acupuncture use in treating pregnancy-related pelvic and back pain."
In 1 year the evidence has progressed from "limited" to "promising." Is that a significant change?
11/15/09 23:46 JR