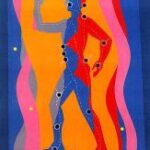 Researchers from Kyung Hee University, in Seoul, South Korea report "marked clinical improvement."
First, the details.
175 perimenopausal or postmenopausal women with average hot flash scores of at least 10, 1 week prior to the study were randomly divided into 2 groups for 4 weeks.

12 sessions of acupuncture + usual care
Usual care alone

Hot flush scores were calculated by multiplying frequency by severity as recorded in a daily diary.
And, the results.
The average change in 24-hour hot flash score was -17 with acupuncture vs -7 with usual care alone — a significant difference.
The total Menopause Rating Scale score, as well as the subscale scores for the psychological, somatic (body function), and urinary and reproductive systems showed significant improvement in the acupuncture group vs usual care alone.
The average change in 24-hour hot flash score in the acupuncture group was -18 at week 8.
The bottom line?
The authors concluded it appears that "acupuncture in addition to usual care is associated with marked clinical improvement in hot flashes and menopause-related symptoms in perimenopausal or postmenopausal women."
Earlier this year, 2 of the authors of the current study reviewed the medical literature and concluded that based on 11 studies of 764 patients, "There is no evidence that acupuncture is an effective treatment in comparison to sham acupuncture for reducing menopausal hot flashes."
Maybe not, but these results suggest that in the absence of sham acupuncture, which repeatedly confounds acupuncture research, it appears that acupuncture makes a positive contribution when combined with usual care.
11/15/09 22:09 JR