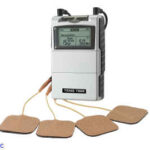 Researchers from The Hong Kong Polytechnic University report benefit in hemiparetic (weakness on one side of the body) stroke survivors.
The American Physical Therapy Association defines TENS — transcutaneous electrical nerve stimulation — as application of electrical current through the skin for pain control.
First, the details.
109 hemiparetic stroke survivors were assigned randomly to a treatment group for 5 days a week for 4 weeks.

TENS: 60 minutes of electrical stimulation
TENS + 60 minutes of exercise
Placebo stimulation for 60 minutes + exercise
Control group: No active treatment

Comfortable gait speed was measured using a GAITRite II walkway system.
Walking endurance and functional mobility were measured by the distance covered during a 6-minute walk test (6MWT) and by timed up and go test scores before treatment, after 2 and 4 weeks of treatment, and 4 weeks after treatment ended.
And, the results.
Only the combined TENS + exercise group showed significantly greater absolute and percentage increases in gait velocity and reduction in timed up and go scores from week 2 onwards.
Compared to the control and TENS groups, only the combined TENS + exercise group covered significantly more distance in the 6MWT from week 2 onwards.
The bottom line?
The authors concluded, "TENS can improve the effectiveness of task-related exercise for increasing walking capacity in hemiparetic stroke survivors."
11/16/09 20:51 JR