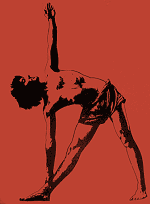 Researchers from Swami Vivekananda Yoga Research Foundation in Bangalore, India measured the effect of yoga on perceived stress.
First, the details.
122 healthy pregnant women between the 18th and 20th week of pregnancy were randomly assigned to treatment 1-hour daily.

Practicing yoga and deep relaxation
Standard prenatal exercises
And, the results.
45 participants per group who completed the study were evaluated.
Perceived stress decreased by 32% in the yoga group but increased 7% with standard exercise — a significant difference.
During guided relaxation in the yoga group, parasympathetic activity (slowing effect) on the heart increased 64% in the 20th week and 150% in the 36th week.
Sympathetic activity (acts to increase heart rate) became significantly reduced between the groups and continued to be reduced throughout the study.
The bottom line?
It's not clear from the abstract why more than one-quarter of the women dropped out of the study.
Based on those who completed treatment, the authors concluded, "Yoga reduces perceived stress and improves adaptive autonomic response to stress in healthy pregnant women."
If you're pregnant, tell you doctor about your yoga activities. Useful information to prepare for this discussion is here.
12/27/08 20:27 JR