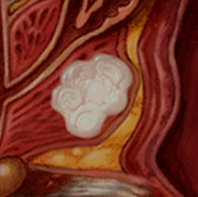 Is there benefit in prostate cancer, benign prostatic hyperplasia (BPH), and prostatitis?
Dr. Darrell Hulisz and colleagues from the Case Western Reserve University, School of Medicine in Cleveland, Ohio reviewed the evidence for taking supplements.
Prostate cancer
Most of the research on selenium has focused on prostate cancer prevention.
Certain men (baseline selenium below 122 ng/mL and a prostate-specific antigen (PSA) level less than 4 ng/mL) may benefit from selenium (200 mcg daily) to reduce the risk of prostate cancer.
Results from the Selenium and Vitamin E Cancer Prevention Trial (SELECT) in 32,400 healthy men will better define the risks/benefits.
The most recent evidence does not support taking vitamin E to prevent prostate cancer.
BPH
Saw palmetto

(Serenoa repens)

is the most common nonprescription product used to BPH symptoms.
The risks of saw palmetto are not known.
Men with new-onset obstructive urinary symptoms should not self-treat with saw palmetto.
See your doctor since the symptoms of BPH can mimic other disorders, such as prostate cancer and prostatitis.
Prostatitis
Men taking saw palmetto had no tangible long-term improvement.
The bottom line?
The benefits of supplements are limited. Fortunately, there are lots of medical/surgical options to treat prostate problem successfully in older men .
The relationship between nutrition and prostate cancer risk is available here.
3/30/08 10:41 JR