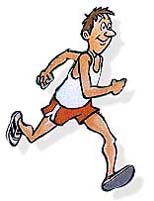 "What's really compelling is that we see the association between exercise and lower colon cancer risk regardless of how physical activity was measured in the studies," say researchers at Washington University in St. Louis, Missouri.
First, the details.
52 studies that examined the association between physical activity and risk of colon cancer were reviewed.
And, the results.
Spending more time in physical activity was associated with a significant reduction in colon cancer for both men and women.
The protective effect of exercise held for all types of physical activity, whether recreational (jogging, biking, or swimming) or job related (walking, lifting, or digging).
The bottom line?
This study confirms, say the authors, "previous studies reporting an inverse association between physical activity and colon cancer in both men and women."
It's good news. But better news is found in a previous study, which reported that among women whose only reported activity was walking, there was a decreased risk of colon cancer in women walking 1 to 2 hours per week compared to those who did not walk.
2/14/09 23:33 JR