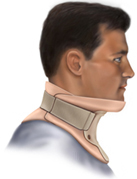 Neck pain is a frequently reported complaint, and mechanical traction is often used to aid outpatient rehabilitation.
In this Cochrane review by researchers at McMaster University in Ontario, Canada, the effects of mechanical traction for neck disorders is assessed.
First, the details.
7 studies of 958 adults where mechanical traction alone or combined with other treatments was compared to placebo or other treatment were reviewed.
Outcomes of interest were pain, function, disability, perceived effect, patient satisfaction, and quality of life.
2 reviewers with different backgrounds in medicine, physiotherapy, massage therapy, and chiropractics independently selected the studies.
And, the results.
The 1 study in 100 patients with a low risk of bias reported no significant difference between continuous traction and placebo traction in reducing pain or improving function for chronic neck disorders with radicular (spinal cord-associated) symptoms.
The studies with a low potential for bias neither supported nor refuted the use of continuous or intermittent traction for neck disorders.
The bottom line?
The available evidence "does not support or refute the value of continuous or intermittent traction for pain reduction, improved function, or global perceived effect when compared to placebo traction, tablet or heat or other conservative treatments in patients with chronic neck disorders," concluded the authors.
SpineUniverse has a concise review of therapeutic spinal traction.
10/17/08 19:48 JR