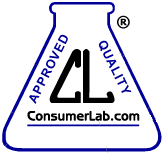 ConsumerLab.com has reported the results of quality control tests on black cohosh supplements, soy and red clover isoflavone supplements, and progesterone creams.
Among the products tested, quality was inconsistent according to an article on HealthNewsDigest.com.
Quality problems
1 supplement provided 30% of the isoflavones on the label.
Another supplement provided 65% of the claimed amount of glycitein — an isoflavone in soy.
Lead contamination was detected in 1 supplement.
2 products violated FDA labeling requirements by not specifying the plant parts used as ingredients.
Black cohosh
6 supplements met quality standards.
Progesterone creams
3 creams provide their listed amount of progesterone.
Brands tested included Balance, Herbalife, Kevala, Life-flo, LifeWise, Natrol, Natures Answer, Natures Bounty, Nature Made, NOW, Nutrilite, Oona, Puritan's Pride, Rainbow Light, Swanson, TruNature (Costco), Vitamin Shoppe, Vitamin World, and Vitanica.
You'll have to buy the report to learn more.
9/17/08 19:30 JR