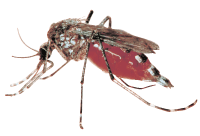 Researchers report positive effects when vitamin A and zinc were given to young children from the country of Burkina Faso in West Africa.
First, the details.
150 children aged from 6 to 72 months were randomly assigned to a treatment group.

Vitamin A 200 000 IU + elemental zinc 10 mg
Placebo

Treatment was given 6 days a week for 6 months.
The researchers and children were unaware of the treatment given — double-blind.
Children were evaluated daily for fever.
Microscopic examination of blood was done in the case of fever (37.5°C or higher) for malaria parasite detection.
And, the results.
At the end of the study there was a significant 34% decrease in the prevalence of malaria in the vitamin A + zinc group vs 4% decrease in the placebo group.
There was a significant 30% reduction in malaria episodes in the vitamin A + zinc group.
Time to first malaria episode was significantly delayed in the vitamin A + zinc group.
The vitamin A + zinc group also had 22% fewer episodes of fever than the placebo group — a significant difference.
The bottom line?
The authors concluded, "Combined vitamin A plus zinc supplementation reduces the risk of fever and clinical malaria episodes among children, and thus may play a key role in malaria control strategies for children in Africa."
Children and adults living in malaria-endemic areas often have malnutrition and deficiencies in micronutrients such as vitamin A and zinc — a situation that creates a complexity of interactions with serious health consequences.
The results from earlier studies reviewed by the authors suggest that vitamin A and zinc given alone have produced benefit. Both are essential for normal immune function. Consequently, combining them might lead to enhanced immunity against the parasite, Plasmodium falciparum — the most common source of life-threatening malaria, and the cause of over a million deaths every year.
9/16/08 18:11 JR