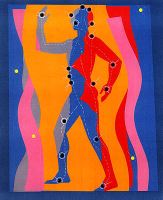 Professor Ernst presents an overview of Cochrane reviews on acupuncture.
First, the details.
32 reviews were found, covering a wide range of conditions.
And, the results.
25 of them failed to demonstrate the effectiveness of acupuncture.
5 reviews arrived at positive or tentatively positive conclusions, while 2 were inconclusive.
The conditions most solidly supported by evidence are…

Chemotherapy-induced nausea/vomiting
Postoperative nausea/vomiting
Idiopathic headache
The bottom line?
The good professor concludes, "Cochrane reviews of acupuncture do not suggest that this treatment is effective for a wide range of conditions."
Do I detect negativity?
You could just as easily conclude that acupuncture is effective for chemotherapy-induced nausea/vomiting, postoperative nausea/vomiting, and idiopathic headache.
9/17/08 21:02 JR