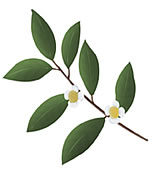 Drinking more might lower the risk of liver disease, according to researcher from Zhejiang University in China.
But what about all that caffeine?
First, the details.
Among 472 studies, 10 (8 from China, 1 from Japan and 1 from the US) were selected for review.
And, the results.
8 studies reported a significant protective role of green tea against various liver diseases, especially cancer.

4 of these studies showed a positive correlation between green tea intake and attenuation of liver disease.

The other 2 studies suggested a protective tendency of green tea against liver disease.
The bottom line?
Medscape points out that the studies reviewed here differed in design, tea dosage, and outcome measures, so it's difficult to compare the results. And in the absence of a single objective measure of results, the researchers had to rely on their patients' memories. Therefore, "objective markers for tea consumption" — possibly urine levels — are a priority, according to the authors.
9/16/08 20:21 JR