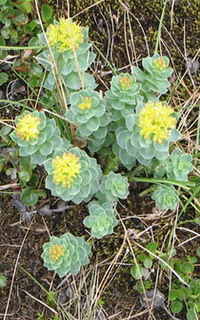 Standardized extract SHR-5 of Rhodiola rosea L. rhizomes (Sedum roseum; rose root) was studied in patients suffering from a current episode of mild/moderate depression.
First, the details.
Patients with Hamilton Rating Scale for Depression (HAMD) questionnaire scores between 21 and 31 were randomly assigned to one of 3 groups.

Group A received SHR-5, 340 mg/day.
Group B received SHR-5, 680 mg/day.
Group C received placebo.

HAMD questionnaires were repeated on day 42.
And, the results.
Groups A and B experienced significant improvement in overall depression, insomnia, emotional instability, and somatization (medical symptoms with no discernible organic cause), but not self-esteem.
The placebo group did not show improvement.
No serious side effects were reported in the groups.
The bottom line?
The authors concluded, "Standardized extract SHR-5 shows antidepressive potency in patients with mild to moderate depression … over a 6-week period."
Rhodiola rosea is often referred to as an "adaptogen." More on that, here.
8/6/08 22:40 JR