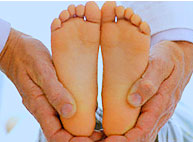 Palmoplantar hidrosis (aka hyperhydrosis) is excessive sweating from the palms and soles, which can be an embarrassing and disabling condition.
In this article, Dr. Fumino Ninomiya from Japan reports that a Kampo medicine, Shigyaku-san (Sini san, TJ-35: Tsumura & Co.), was associated with improvement of palmoplantar hidrosis.
First, the details.
40 adults with palmoplantar hidrosis complicated with lower body coldness, purulent blisters, erythema, facial flushing, atopic dermatitis, constipation, or menstrual disorders received Shigyaku-san, sometimes combined with other Kampo medicines in resistant cases.
Changes in the palmoplantar sweat volume and skin temperature due to stress were measured in these 40 patients and in 35 healthy people not treated with Shigyaku-san.
Changes in palmoplantar sweat volume and skin temperature due to stress were measure before and after 8-weeks of treatment.
And, the results.
Before treatment, the pre-stress sweat volume in patients was larger than in healthy controls.

After Shigyaku-san, their pre-stress sweat volume decreased.

With stress, the sweat volume increased in both patients and controls, but the increase in patients was larger.

After Shigyaku-san treatment, the increase of sweat volume due to stress was smaller compared to pretreatment and not differenct from the healthy controls.

The palmoplantar skin temperature of the patients before treatment was lower than in the healthy controls, but rose with stress loading in healthy controls, while decreasing in the pretreated patients.
The bottom line?
Dr. Ninomiya concluded, "Shigyaku-san treatment reduced the palmoplantar perspiration in palmoplantar hidrosis patients at rest and under stress. Furthermore, it also improved … coldness of the extremities."
This is not a study. In reality, it's a review of the clinical experience of one doctor, which is masquerading as a clinical study.
The healthy controls are not described in any detail in the article. There's no way to tell if they were demographically similar to the treated patients. My guess is they were added as an afterthought to give the appearance of a study.
The results might be useful if all patients had been treated with Shigyaku-san alone, rather than combining it with other treatments in certain patients. The number of patients requiring combination treatment is never presented. And there's no effort to report the results with Shigyaku-san when used alone.
The study was published in Evidence-based Complementary and Alternative Medicine. It's a poor reflection on the editors and reviewers of this publication who should maintain higher standards.
8/6/08 20:24 JR