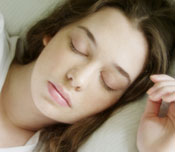 It was more effective than the benzodiazepine drug estazolam (ProSom, Eurodin) in this study by researchers at Guangzhou University of Chinese Medicine in China.
But that's not the entire story.
First, the details.
44 adult women were randomly assigned to acupuncture or estazolam treatment.
The acupuncture group received abdominal acupuncture once daily for the first 3 days, then once every 3 days for the remaining 11 days.
The acupuncture group also received a placebo pill once daily.
Abdominal acupuncture followed a standardized protocol.

4 master and 4 adjunctive acupoints: Zhongwan (CV 12), Xiawan (CV 10), Guanyuan (CV 4), and Qihai (CV 6); bilateral Shangqu (KI 17), Huaroumen (ST 24), Xiafengshidian, and Qipang.

The medication group received the same regimen of sham acupuncture plus estazolam once a day.
The Leeds Sleep Evaluation Questionnaire (LSEQ) was used to measure outcomes.

LSEQ evaluates getting to sleep, sleep quality, waking, and behavior after waking based on answers to 10 questions using a visual analog scale (0 [none] to 100 [greatest]).
And, the results.
The abdominal acupuncture group significantly lowered their LSEQ scores by 26 points.
After controlling for potential confounding factors, the effect of abdominal acupuncture in relieving insomnia remained statistically significant.
The abstract doesn't mention the results with estazolam.
The bottom line?
The authors concluded, "Short-term abdominal acupuncture is more effective than pharmacological treatment for relieving insomnia in adult women and has few adverse effects."
An earlier study by researchers at Capital Medical University in Beijing also compared acupuncture to estazolam in 44 patients. Unfortunately, the results were less clear. Overall, acupuncture was considered superior. Estazolam was significantly better than acupuncture in prolonging sleeping time. But acupuncture significantly improved the daytime function and somnipathy (ie, abnormal or disordered sleep patterns) — no mention of the effect of estazolam on these outcomes.
Perhaps access to both articles, and, in the case of the second study, fluency in Chinese would help define the roles of acupuncture and estazolam.
Or, maybe a Cochrane review (written before these studies were published) will help.
After reviewing 7 studies of 590 participants with insomnia, it was concluded that due to the small number of properly designed studies, the current evidence is "not sufficiently extensive or rigorous to support the use of any form of acupuncture for the treatment of insomnia."
Larger studies that conceal treatment from the patients (not done in the second study) with longer follow-up are needed, according to Cochrane.
8/6/08 14:51 JR