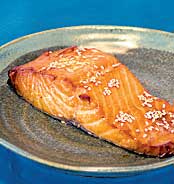 Among older adults, modest consumption of fish is associated with a lower prevalence of subclinical brain infarcts ("tiny" strokes) — changes in the brain consistent with a stroke, but without the usual outward signs and symptoms.
First, the details.
3,660 participants older than 64 years got an MRI scan.
5 years later, 2,313 were scanned again.
Experts who knew nothing about the patients evaluated the MRI scans (blinded).
Dietary information was obtained using food frequency questionnaires.
People with known cerebrovascular disease were excluded from the study.
And, the results.
The risk of having one or more subclinical infarcts was significantly lower among those consuming tuna and other fish at least 3 times/week, compared to less than once per month.
Each additional serving of tuna or other non-fried fish per week, significantly lowered the risk by 7%.
There was no association between eating fish and the presence of markers of brain atrophy.
Eating fried fish showed no significant association with subclinical brain abnormalities.
The bottom line?
The MedPage article on this study addresses some of its limitations. For example, the associations could have been influenced by a healthier lifestyle such as taking omega-3 fatty acids from other sources.
Overall, it's probably best to eat baked (not fried) fish with the correct ratio of omega-3 and -6 fatty acids.
These findings by researchers in Finland and the U.S. add to the growing evidence for including fatty fish (aka omega-3 fatty acids) in your diet.
8/5/08 11:43 JR