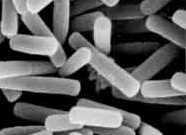 Recently, the use of tegaserod (Zelnorm) and alosetron (Lotronex) to treat irritable bowel syndrome (IBS) was restricted because of adverse events.
Here's what we know about probiotics for the relief of symptoms of IBS.
First, the details.
The researchers searched for information on Bifido-bacterium and Lactobacillus.
And, the results.
Overall, probiotics led to positive outcomes in the treatment of IBS.
7 of 11 studies reported improved overall symptom relief.
5 of 8 groups reported benefit in abdominal pain or distention.
4 of 5 groups reported improvement in flatulence or intestinal transit time with probiotics.
The probiotics were safe, but quality of life was not evaluated in any studies.
The bottom line?
The authors concluded, "Probiotics may be an option for relieving symptoms of IBS." However, more studies will be needed to define their most appropriate role.
Furthermore, "Probiotics are complementary alternative supplements and are not subject to rigorous standardization by the U.S. Food and Drug Administration. As a result, an individual may obtain a product that is ineffective." In fact, there is evidence from one study that one dosage form failed to dissolve.
"To circumvent this issue," the authors state, "it is important for patients to use the specific probiotic formulation shown to be effective."
7/8/08 21:50 JR