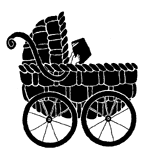 A pram is a baby carriage and an abbreviation of "perambulator" — a person who tours on foot.
Anyway, pram walking is popular in Australia as a way for groups of women with postpartum depression to go out with their babies, get some exercise, talk, and hopefully make progress to resolve their depression.
Dr. Kylie Armstrong from Griffith University in Australia conducted a study a few years ago to get an indication of the usefulness of this activity.
She compared pram walking to once a week non-structured social support sessions, similar to a playgroup.
It was a small study (just 20 women).
After the initial 12-week period of pram walking, the women were re-evaluated 20 months later.
The results showed that the mothers who were randomly assigned to the pram walking group had greater improvement in depressive symptoms. Dr. Armstrong concluded that irrespective of income, education, prior exercise habits and medication, and counseling, a 12-week pram walking intervention has the potential to improve both fitness levels and depressive symptoms in women experiencing postpartum depression.
There are some confounding factors that make it hard to evaluate the real impact of pram walking on postpartum depression. In addition to the small number of women studied, some were getting psychological care and more than half were being treated pharmacologically.
On the other hand, when the risks and benefits are considered, pram walking is a logical complement to the treatment of postpartum depression. You can read more about it here.
2/20/07 23:07 JR