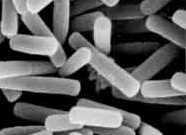 Growing evidence suggests that probiotics might serve as a functional food in the treatment of diarrhea.
Here's what we know.
Clinical trials suggest potential beneficial effects of probiotic therapy for preventing and treating the following conditions
Antibiotic-associated diarrhea
Rotavirus-induced diarrhea
Traveler's diarrhea
Diarrhea-predominant irritable bowel syndrome
The most extensively studied probiotics for diarrhea.
Lactobacillus
Bifidobacterium
Saccharomyces
Here's what we don't know.
Mechanism of action
The correct combination and concentration of probiotics
1/24/07 18:22 JR