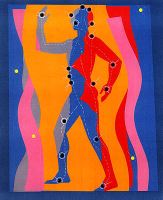 This is the second study in a week to report a positive effect in patients with head and neck cancer complicated by xerostomia (abnormal dryness of the mouth resulting from decreased secretion of saliva).
First the details.
12 patients with radiation-induced xerostomia were randomly assigned to 2 groups (real or sham acupuncture).
Acupuncture was conducted twice weekly for 6 weeks.
The patients didn't know the group they were assigned to (single-blinded).
The effect was evaluated by measuring whole salivary flow rates and a questionnaire of symptoms 3 and 6 weeks after acupuncture.
And, the results.
Both groups had a slight increase in whole salivary flow rates.
Real acupuncture markedly increased unstimulated salivary flow rates.
The score for dry mouth improved according to the questionnaire, by 2.33 points vs 0.33 in the controls.
The bottom line?
The results showed a "significantly meaningful amelioration of the subjective sensation of xerostomia closely associated with quality of life in patients with head and neck cancer treated with irradiation, concluded the authors from Daejeon University in South Korea.
During the American Society for Clinical Oncology, Dr. David Pfister from Memorial Sloan-Kettering Cancer Center in New York City reported that acupuncture was associated with a significant reduction of extreme dry mouth.
6/6/08 22:16 JR