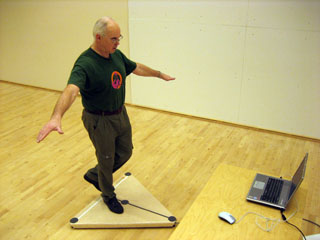 Standing balance deficits are common after stroke. One way to address these deficits is to provide feedback from a force platform while balance activities are performed.
In this study by researchers at the Ankara Numune Education and Research Hospital in Turkey, combining balance training (using force platform biofeedback) with a conventional rehabilitation program did not provide additional benefits.
First, the details.
41 institutionalized older stroke patients with partial paralysis affecting only one side of the body were randomly assigned to treatment.
The control group participated in a conventional stroke inpatient rehabilitation program.
The experimental group received 15 sessions of balance training (using force platform biofeedback) in addition to the conventional program.
And, the results.
Motor recovery, mobility, and activity level improved significantly in both groups.
But there was no difference in improvement between groups.
The bottom line?
By comparison, a Cochrane review concluded, "Force platform feedback (visual or auditory) improved stance symmetry but not sway in standing, clinical balance outcomes or measures of independence."
6/6/08 22:51 JR