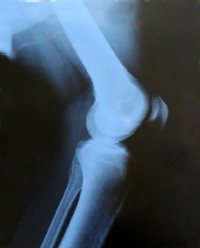 Aquatic exercise has less adverse effects, but what about effectiveness?
First, the details.
79 older patients were randomly assigned to aquatic exercise, land-based exercise, or control or 8 weeks.
And, the results.
No effect was observed immediately after the end of the exercise program.
3 months later, a significant reduction in pain was observed only in the land-based exercise group compared with the control group.
However, patients' opinions about their knee condition were no different among groups.
There was no improvement following aquatic exercise.
11 patients reported discomfort after land-based exercise vs 3 with aquatic exercise.
The bottom line?
The authors concluded, "Only land-based exercise showed some improvement in pain and muscle strength compared with the control group."
Cochrane reviewed aquatic exercise for knee osteoarthritis in 2006. That report concluded, "Aquatic exercise appears to have some beneficial short-term effects." And, "one may consider using aquatic exercise as the first part of a longer exercise programmed for osteoarthritis patients."
However, "The … studies in this area are still too few to give further recommendations on how to apply the therapy… in the treatment of osteoarthritis."
More recently, reviewers from the Royal National Hospital for Rheumatic Diseases in Bath, UK concluded, "Compared with no treatment, aquatic exercise has a small pain-relieving effect; however, the small number of good-quality studies and inconsistency of results means that insufficient evidence limits firm conclusions."
6/5/08 20:22 JR