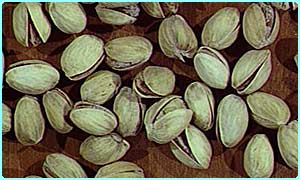 In 2003, the FDA stated, "Scientific evidence suggests, but does not prove, that eating 1.5 ounces per day of most nuts, such as pistachios, as part of a diet low in saturated fat and cholesterol may reduce the risk of heart disease."
This study supports that statement.
First, the details.
15 people with moderately high cholesterol (greater than 210 mg/dL)
Randomly assigned to 4 weeks of dietary modification with and without 15% caloric intake from pistachio nuts
And, the results.
On the pistachio diet there was a significant increase in HDL (good) cholesterol.
By the end of the study the difference in HDL cholesterol between groups was about 2.3 mg/dL.
There were also significant reductions in the following ratios: total cholesterol/HDL cholesterol, LDL (bad) cholesterol/HDL cholesterol, apolipoproteins B-100/A-1.
No statistically significant differences in total cholesterol, triglycerides, LDL cholesterol, VLDL-C cholesterol, apolipoprotein A-1, or apolipoprotein B-100
No changes in body mass index or blood pressure
The bottom line?
In this small study, eating about 2 to 3 ounces per day of pistachio nuts in people with moderately high cholesterol levels who received dietary education and modification resulted in improvement in some lipid values.
Whether this might also reduce the risk of coronary disease was not shown.
An earlier study reported that pistachio nuts had a positive effect on blood pressure during stress.
6/15/07 10:53 JR