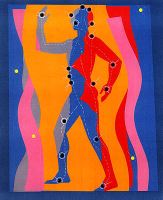 Acupuncture is not better than placebo, according to researchers at Aldermoor Health Centre in Southampton, UK.
First, the details.
Starting 4 to 10 days after stroke, patients received 12 acupuncture or placebo treatments over 4 weeks.

Acupuncture using electrical stimulation was compared to mock TENS

Assessments continued for 12 months.
And, the results.
92 patients completed the study (the abstract doesn't indicate how many started).
At 3 weeks, there was a significant difference with acupuncture in the ability to control the extremities, as measured by the Motricity Index.
At 12 months, there was no difference in response to acupuncture vs placebo.
The bottom line?
No long-term benefits with acupuncture during stroke recovery.
The Cochrane Review of acupuncture in patients with acute stroke came to a similar conclusion. With respect to whether acupuncture was safe, and might reduce the number of patients who died, or were left needing help with everyday activities, there was "no clear effect of acupuncture on either outcome."
However, Dr. Samuel Shiflett from the University of Arizona in Tucson has come to a different conclusion. When viewed as complementary treatment for stroke recovery, "there is in fact substantial evidence that acupuncture is effective."
This conclusion is based on his review and meta-analysis of the study results. Yes, studies tend to be flawed in their design, but in 5 studies this resulted in "underreporting of acupuncture effects," according to Dr. Shiflett.
By "informally" adjusting for these limitations, he demonstrated that "acupuncture is probably much more effective in assisting stroke recovery than has generally been reported, especially when the stroke is in the moderately severe range."
Dr. Shiflett concluded, "The importance of giving more attention to ancillary results, such as walking speed and mortality, was illustrated as a way to gain a deeper understanding of the true impact of a still poorly understood therapy such as acupuncture."
5/11/08 11:23 JR