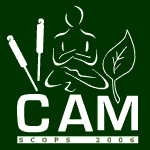 A survey of more than 6000 US hospitals by the American Hospital Association reveals that among 1400 responders, the percentage of hospitals offering at least one CAM service increased from 8% in 1998 to 27% in 2005.
The top CAM services offered to outpatients:
Massage therapy (71%)
Tai chi, yoga, or chi gong (47%)
Relaxation training (43%)
Acupuncture (39%)
Guided imagery (32%)
Therapeutic touch (30%)
Top inpatient services:
Massage therapy (37%)
Music/art therapy (26%)
Therapeutic touch (25%)
Guided imagery (22%)
Relaxation training (20%)
Acupuncture (11%)
CAM offerings are most common in the midwest (Illinois, Indiana, Michigan, Ohio, and Wisconsin) and less common on the west coast. The least common areas to offer CAM services are in the South (Alabama, Kentucky, Mississippi, and Tennessee).
Also:
Most (68%) hospitals offering CAM are in urban areas
Half of the hosptials offering CAM have 100 to 300 beds.
Teaching hospitals account for 36% of hospitals offering CAM services.
Patients (81%) pay for most CAM services as an out-of-pocket medical expense.
Insurance pays for 37%.
The bottom line
Most of the hospitals (79%) offer CAM based on patient demand. Other criteria include scientific evidence base (65%), availability of practitioners (53%), and market research (23%).
Should I assume chiropractic is not considered CAM?
4/20/08 17:52 JR