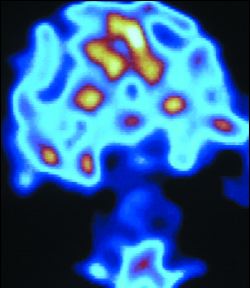 In patients with epilepsy that does not respond to drug therapy, researchers from the University of Uppsala in Sweden reported, "Acceptance and Commitment Therapy (ACT) and yoga decrease seizure index and increase quality of life."
First, the details.
All participants had epilepsy with drug-refractory seizures.
They were randomly assigned to 2 groups: ACT or yoga.
Treatments consisted of 12 hours of professional therapy distributed in 2 individual sessions.

2 group sessions during a 5-week period, and booster sessions at 6 and 12 months post-treatment.

Seizure index (frequency x duration) was continuously assessed for 3 months before treatment and 12 months after treatment.
Quality of life was measured after treatment and at 6 and 12 months after treatment.
And, the results.
Both ACT and yoga significantly reduced seizure index and increased quality of life over time.
ACT reduced seizure index significantly more than yoga.
The bottom line?
The results are impressive because they were long-lasting — up to a year after the main coarses of treatments ended.
ACT is a type of behavioral therapy that has been developed over the past 3 decades. I went to their meeting last year. It has generated enthusiasm among a new generation of therapists.
Dr. Steven Hayes developed ACT. You can read segments of his book here. A good review article is here.
3/18/08 20:47 JR