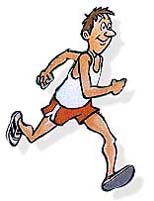 I guess this fits if you view growth hormones as a complementary addition to athletic conditioning.
First, the details.
The results from 44 articles including 303 participants who received growth hormone were reviewed.
This represented 13 person-years of treatment.
Participants were young and physically fit.
Growth hormone dosage averaged 36 µg/kg per day, and treatment duration averaged 20 days.
And, the results.
Lean body mass increased in those taking growth hormone compared with those who did not.
But strength and exercise capacity did not improve.
Growth hormone–treated participants more frequently experienced soft tissue edema and fatigue than did those not treated with growth hormone.
The bottom line?
The authors concluded that although growth hormone is used to enhance athletic performance, both for its anabolic and endurance effects, "Our review of the limited published literature suggests that while growth hormone may alter body composition, it has minimal effect on key athletic performance outcomes and may, in fact, be associated with worsened exercise capacity."
3/18/08 11:51 JR