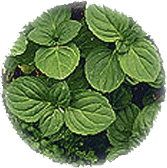 In general, past entries on this topic were positive, although peppermint oil gets a "C" rating (inconsistent or limited-quality patient-oriented evidence) for irritable bowel syndrome (IBS).
Maybe so, but here is another supportive study that tested the effectiveness of enteric-coated peppermint oil in a well-defined group of patients.
Researchers from G.d'Annunzio University in Chieti-Pescara, Italy write, "variable results [reported in the past were] probably due to the presence of patients affected by small intestinal bacterial overgrowth, lactose intolerance, or celiac disease that may have symptoms similar to irritable bowel syndrome."
Their group of patients did not have these confounding variables.
First, the details.
57 patients with IBS were treated with peppermint oil (2 enteric-coated capsules twice per day [Mintoil]) or placebo for 4 weeks.
Researchers and patients were not told which they received.
And the results.
After 4 weeks of treatment, 75% of the patients in the peppermint oil group had at least a 50% reduction in total irritable bowel syndrome symptoms score compared to 38% in the placebo group — a significant difference.
Benefits were maintained through 8 weeks.
The bottom line?
According to these results, it takes about 4 weeks to see significant improvement in IBS with this brand of peppermint oil.
A summary of another positive study is here.
5/25/07 10:48 JR