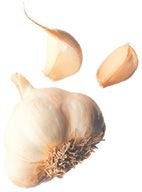 The National Cancer Institute has reviewed the evidence.
The benefits.
Of 37 observational studies in humans using garlic and related allyl sulfur components, 28 showed some cancer preventive effect.
The evidence is particularly strong for a link between garlic and prevention of prostate and stomach cancers.
However, these are all observational studies or animal studies. There are no clinical studies where the intake of garlic in humans was controlled for a predetermined time (prospective, double-blind, placebo controlled).
The report also discusses how garlic might exert its protective effects. But you can read that part for yourself.
5/28/07 20:36 JR