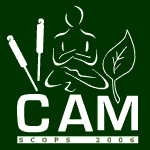 In 2000, the House of Lords Select Committee's Report on CAM recommended familiarization with CAM for medical students and doctors.
According to this article, little has been done. But it confirms an interest in greater exposure to CAM education among medical students in Wales.
Researchers from Singleton Hospital in Wales, UK surveyed 78 first year medical students in the undergraduate entry program in Cardiff and 58 first year medical students from the graduate entry program in Swansea.
And, the results.
32% of undergrads had previous knowledge of CAM vs 51% of grad students.
62% of undergrads want to be taught about CAM vs 94% of grad students.
31% of undergrads said CAM has a role in the National Health Services (NHS) vs 50% of grad students.
CAM considered important.
Acupuncture: 64%
Herbal medicine: 38%
Chiropractic: 31%
Osteopathy: 26%
Homeopathy: 12%
Reflexology and tai chi: 7% each
Aromatherapy was not mentioned.
The bottom line?
None of the students had received teaching about CAM, and little formal CAM teaching is included in the curricula at each site. However, as they advance through training, students seem to recognize the importance of including CAM education as part of their medical training.
1/19/08 21:00 JR