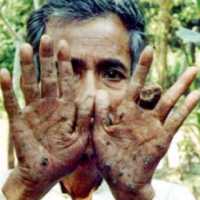 It's only one patient (not the one in the photo), but it might reflect a bigger problem.
Here's what happened.
A woman had a 2-year history of worsening hair loss and memory loss.
She developed a rash, increasing fatigue, nausea, and vomiting, which disabled her to the point where she could no longer work full-time.
Her doctor discovered she was taking kelp supplements each day.
Arsenic level in the urine was 83.6 mcg/gram creatinine (normal: less than 50 mcg/gram creatinine).
Her kelp supplement contained 8.5 mg/kg (ppm) arsenic.
Her symptoms resolved within weeks of discontinuing the supplement, and arsenic blood and urine levels became undetectable.
The authors purchased 9 samples of kelp supplements, and 8 showed detectable levels of arsenic that were higher than the FDA tolerance level of 0.5 to 2 ppm for certain food products. None of the supplements contained information regarding the possibility of contamination with arsenic or other heavy metals.
Dr. Marc Schenker, who is professor and chair of the Department of Public Health Sciences at the University of California, Davis, says that as a result of the 1994 Dietary Supplement Health and Education Act (DSHEA) there's a lack of sufficient regulation of dietary herbal therapies. And this will make inadvertent toxicity a more frequent occurrence.
In rebuttal, the American Herbal Products Association points out, "The authors fail to report that the product was used at 2- to 'at least' 4-times the suggested amount." They believe the toxicity might have been due to iodine toxicity — a naturally occurring substance in kelp.
The bottom line?
Herbal supplements are supposed to be safe. So safe that they don't require FDA oversight. Pointing out that the patient's symptoms might be due to iodine rather than arsenic misses the point.
If in fact there are 2 "contaminants" that manufacturers can't get to safe levels, perhaps kelp is not safe enough to sell without a prescription.
Photo: Leigh Day and Co, Solicitors
4/26/07 19:06