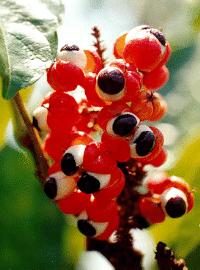 Recently, 4 patients experienced seizures multiple times following heavy consumption of energy drinks. The authors proposed that energy drinks rich in caffeine, taurine, and guarana seed extract could have provoked these seizures.
Here's what we know about guarana thanks to researchers from the University of Florida at Gainesville and the Brazilian Agricultural Research Corporation (EMBRAPA) in Amazonas, Brazil.
What it is.
Guarana seeds contain more caffeine than any other plant in the world — 2% to 7.5%.
Guarana contains about 4 times as much caffeine as coffee.
Historical use
In the late 17th century it was used for energy and to reduce hunger during hunting expeditions.
Commercialization
In the last decade, venders in the Brazilian Amazon began selling guarana beverages prepared in a blender with crushed ice.
One company included guarana in a drink containing "love herbs for good staying power."
Today, dozens of new energy drinks containing guarana are available in supermarkets and convenience stores.
Other ingredients
Guarana drinks can include ginkgo biloba, ginseng, echinacea, and yohimbine.
Also, bee pollen, arginine (to "boost" the immune system and promote muscle growth), zinc, and creatine (to increase muscle mass) have been included.
Dieters beware
Some people have used these products to lose weight.
But these drinks tend to contain large amounts of high fructose corn syrup, which might lead to weight gain when taken regularly.
12/13/07 22:17 JR