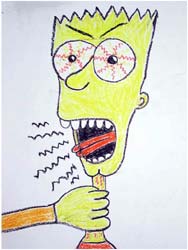 Recently, 2 studies (here and here) showed that increasing the amount of omega-3 fatty acids in the diet of pregnant women had many benefits for their children years later.
Unfortunately, modifying the dietary intake of omega-3 and -6 fatty acids during early childhood does not change the risk of getting asthma later on.
The Childhood Asthma Prevention Study looked at the effects of omega-3 fatty acid supplementation and dietary omega-6 fatty acid restriction on the risk of developing asthma, eczema, or allergy (atopy). All the children had a family history of asthma.
At age 5 years, more than 450 children were examined for wheeze and eczema using a questionnaire. Skin-prick tests were used to detect atopy.
No association between blood levels of omega-3 or -6 fatty acids and wheeze or eczema.
No association with allergy.
In fact, exposure to fatty acids as measured in blood levels or by dietary intake and compliance with supplements showed no association with any respiratory or allergic outcomes.
An earlier study (Childhood Asthma Prevention Study) came to the same conclusions.
The bottom line?
Changing the dietary intake of polyunsaturated fatty acids during early childhood is not helpful in preventing allergy and asthma.
PS: Several years ago a booklet was published in the UK on how asthma affects children and young people. It included their recommendations for improving asthma policies in schools. I don't agree with every recommendation from these children, but it provides insight that adults who don't have asthma may lack.
Illustration: OPSR: Managing Childhood Asthma in Schools
3/25/07 10:36 JR