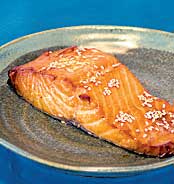 HealthBeat, published by Harvard Health Publications, has an excellent article with solid recommendations about the health benefits and risk of eating seafood.
It's particularly appropriate in light of recent studies here and here supporting the value of omega-3 fatty acids in pregnant women.
Some useful excerpts
Maximize omega-3 intake
Besides salmon, eat Atlantic mackerel (different from king mackerel), herring, and sardines.
Swordfish and golden bass are ample providers of omega-3s, but rank high in mercury content.
Shrimp and lobster are omega-3 lightweights.
Farmed vs wild salmon
Farmed salmon has lots more omega-3 than wild (4,504 mg vs 1,774 mg per 6-ounce serving)
The bottom line?
"Eating fish is worth whatever risks the contaminants might entail."
"In general, the levels of pollutants in fish are below levels at which the FDA would take action."
2/17/07 10:10 JR