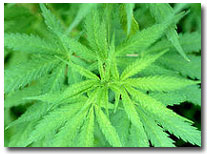 People who smoked marijuana in their youth are getting to the age when cancers are seen. Therefore, we're probably on the verge of seeing many studies on the effects marijuana's long-term health consequences.
Among more than 2000 people living in Los Angeles County, long-term marijuana users who smoked more than 22,000 joints over a lifetime showed no greater risk than infrequent marijuana users or nonusers.
How could this be?
It might have something to do with tetrahydrocannabinol (THC), which is a chemical found in marijuana smoke. THC seems to lessen the tumor-promoting properties of marijuana smoke.
While nicotine in tobacco inhibits the destruction of cancer-causing cells, THC does not appear to do this — it might even do the opposite.
No, you should not conclude from these findings that smoking marijuana is a way to protect yourself from lung cancer.
9/8/06 10:46 JR