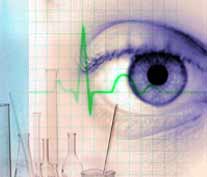 A computer model was programed to simulate the natural history of age-related macular degeneration (AMD) and patterns of ophthalmic service among 20 million Americans age 50 to 100 years or until death.
More details.
These "virtual" individuals "received" vitamin therapy after diagnosis.
They also served as the control group, getting no vitamin therapy.
Incidence of early AMD was based on published studies, as was vision loss and response to therapies.
Disease progression was governed by previously unpublished data drawn from the Age-Related Eye Disease Study.
And, the results.
Compared to no therapy, vitamin therapy was a cost-effectiveness way to improve quality of life.
A lower percentage of patients with AMD developed visual impairment in the better-seeing eye.
The bottom line?
In the field of public health, "Simulation modeling is a powerful method … to inform policy makers in the provision of health care. It has been applied to a wide variety of health care problems. Although the number of modeling papers has grown substantially over recent years, further research is required to assess the value of modeling."
OK, but why don't I feel convinced?
8/6/07 20:59 JR