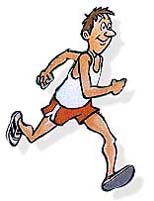 It's commonly recommended that exercising adults and athletes avoid caffeine because it's a diuretic, and might exacerbate dehydration and hyperthermia.
Researchers from the University of Connecticut reviewed the literature.
For reference, an 8-ounce cup of drip-brewed coffee typically contains 85 mg of caffeine. A can of Coke has about 31 mg.
Consuming a moderate level of caffeine (240-642 mg) results in a mild increase of urine production.
There's no evidence that less than 456 mg of caffeine leads to chronic dehydration or has a negative effect on exercise performance, temperature regulation, or the circulation in a hot environment.
Caffeinated fluids contribute to the daily human water requirement similar to pure water.
An affluent Western diet provides sodium and potassium in amounts that exceed these losses.
There's little or no evidence that caffeine increases heat storage during exercise or that caffeine has a negative effect on exercise performance in a hot environment.
Little is known about caffeine doses greater than 600 mg consumed at one time and the effect of different modes of caffeine delivery (ie, capsules, tablets, coffee, tea, soft drinks, sport drinks, and solid food).
8/6/07 19:37 JR