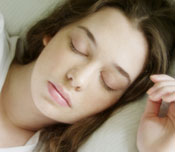 Patients with the highest risk for sleep disturbance are those with pain, mental illness, limited activity, and overall "poor physical and mental health."
Researchers from the University of North Carolina, Chapel Hill and the National Jewish Medical and Research Center, Denver, Colorado surveyed almost 300 consecutive adults in 5 family practice clinics.
Here's what they found.
More than half reported excessive daytime sleepiness.
One-third had insomnia.
More than 25% had symptoms of restless legs syndrome.
Up to a 33% reported obstructive sleep apnea syndrome symptoms.
Those who rated their health as poor reported significantly higher rates of sleep disturbance.
Patients with high blood pressure, pain, and depression had a significantly increased risk for all sleep complaints.
What to do?
The authors conclude, "Because sleep disorders are associated with a significant health impact, positive responses to questions regarding sleep symptoms should prompt further diagnostic inquiry."
Apparently, this will result in more treatment. Aside from prescription drugs, here are some treatment options that might put you to sleep.
And don't forget to read the informative review by Heathereen Cochran.
7/9/07 19:30 JR