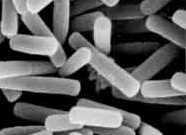 There have been lots of posts on this blog about probiotics. None, however, on their safety.
Overall, they're quite safe, but there is at least one group of patients where caution is advised.
In 2003, researchers from Europe published a review on the safety of probiotics that contain Lactobacilli or Bifidobacteria. They wrote, "To our knowledge, there is no published medical guidance regarding hospital patients? consumption of probiotics or other products that contain viable Lactobacilli or Bifidobacteria."
A subsequent article in 2005 suggests that patients who have a compromised immune system might be considered high risk for treatment.
Physicians from Wake Forest University School of Medicine in Winston-Salem, North Carolina reported 2 patients who had received the probiotic Lactobacilli and then developed serious infections (bacteremia and sepsis) attributable to Lactobacillus species.
One patient was 6-weeks old, while the other was 6 years old.
Both were taking Lactobacillus GG.
After prolonged infection due to an unidentified cause, blood cultures identified Lactobacillus identical to what they were taking.
Stopping Lactobacillus GG was associated with each patient's temperature returning to normal.
Reculturing their blood showed the Lactobacillus was gone or practically gone.
This is not the first time a reported infection was associated with a probiotic. A report of a 73-year-old patient with chronic lymphocytic leukemia who died of Bacillus subtilis infection was published in 1998.
The authors who reported the 2 children reviewed the medical literature and found the following: "A national surveillance program in Finland found no increase in the number of cases of Lactobacillus bacteremia between 1990 and 2000, despite a substantial increase in the probiotic use of L. rhamnosus during that period." And, "A recent review concluded that the risk of infection with probiotic Lactobacilli is similar to that of infection with commensal strains and that probiotic consumption presents a negligible risk to consumers, including immunocompromised individuals."
That was then, this is now.
They concluded, "This report should not discourage the appropriate use of Lactobacillus or other probiotic agents but should serve as a reminder that these agents can cause invasive disease in certain populations."
7/8/07 18:18 JR