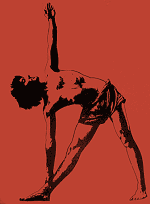 Yes, according to Dr. Timothy McCall who is an editor on Yoga Journal.
Even though you doctor probably doesn't know much about yoga, there are some safety issues that deserve discussion.
First, bring a book that illustrates the postures you typically do. This can help your physician make a more accurate assessment of risks and benefits.
Risky conditions
Pregnancy
Strained back
Muscle pull
Sore shoulder
Risk factors to discuss
Family medical history
A sedentary lifestyle
Certain medicines
High blood pressure
Certain eye problems
Heart disease
Asthma
None of these is an absolute contraindication to yoga. They're just considerations to ensure that you get the most out of being a yogi.
Read Dr. McCall's article here.
12/31/06 11:07 JR