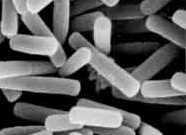 Probiotics are now used by 35% to 40% of the US population routinely and with increasing frequency in patients with irritable bowel syndrome (IBS).
Dr. Brian Lacy from Dartmouth Medical School in New Hampshire reports on the latest probiotic research from the recent Digestive Diseases Week meeting.
In one study of 34 patients, the effect of Streptococcus facecium and Bacillus subtillis was compared to placebo during 4-weeks of treatment.
IBS patients treated with the probiotic combination had a significant reduction in abdominal pain compared to placebo.
Stool form improved but not significantly vs placebo.
In another study, an Escherichia coli preparation was compared to placebo over 8-weeks in almost 300 patients.
Overall symptom response to the treatment was 69% vs 38% in the placebo group.
A similar reduction was noted in abdominal pain reports.
The bottom line?
Yes, these results support the concept that probiotics might have an important role in treating IBS.
However, no probiotic is approved by the FDA for the treatment of IBS, and issues such as mechanism of action, dosing, and duration of treatment remain to be answered.
7/17/07 22:20