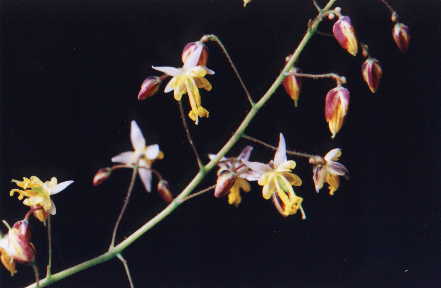 Horny goat weed, also known as epimedium and yin yan huo, is a source of phytoestrogens.
Researchers at the Chinese University of Hong Kong report success using epimedium to prevent bone loss in postmenopausal women.
First, the details.
100 healthy late postmenopausal women were studied for 2 years.
Half were randomly assigned to epimedium-derived phytoestrogen flavonoid treatment (containing icariin, daidzein, and genistein).
The rest received a placebo.
All participants received 300 mg of calcium daily.
Treatment was blinded to the patients and researchers.
And, the results as reported by NutraIngredients.com Europe.
85 women completed the study.
After 2 years of supplementation, bone mineral density at the hip and lower spine increased about 1.5%.
It decreased about 2% in the placebo group.
These differences were significant at 2 years.
No change in estradiol (estrogenic hormone) blood levels or in endometrial thickness (the mucous membrane lining the uterus) was found during the study.
The bottom line?
The results are similar to what would be expected using soy isoflavones, another class of phytoestrogens.
Despite 2 years of study, there is no mention of fracture rate. It's also not clear from available information in the abstract and NutraIngredients article why 15 women did not complete the study.
7/18/07 21:31 JR