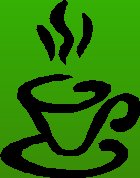 "Patients with psoriasis who drink coffee frequently respond better to treatment with methotrexate and sulfasalazine." This is the conclusion reported by Dr. Yolanda Helfrich during her presentation at the annual meeting of the Society for Investigative Dermatology in Philadelphia.
The results are intriguing because earlier clinical trials reached the opposite conclusion. In fact, coffee is traditionally blamed as contributing to psoriasis. Websites recommend avoiding coffee, while anecdotal reports describe how eliminating coffee "made a dramatic difference" in the severity of psoriasis.
The clinical impact of Dr. Helfrich's data is debatable at this time. We will look forward to reading the published article in a peer-reviewed journal. To read the abstract, go here and search under the author's name.
Illustration: Just Coffee
7/14/06 17:16 JR