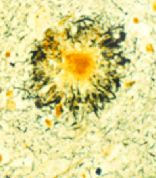 These recommendations, from a group of experts, take a narrow view of Alzheimer's disease. They focus on early detection and the use of existing prescription drugs.
That's fine as far as it goes, but what about those with advanced Alzheimer's? Why not develop a more comprehensive approach?
If I might quote Paul Harvey, "here's the rest of the story."
Omega-3
Diet
Music therapy
Art therapy
Massage therapy
Ginkgo biloba
Aromatherapy, bright light therapy, reminiscence therapy, cognitive training, psychological interventions
Exercise
Admittedly, the supporting data are limited, but we are talking about people who will spend years trapped within themselves. Are these recommendations dangerous? Is there any evidence that they accelerate mental decline?
The answer is no. And considering the limitations of existing mainstream therapy, these options consider support by the experts and the healthcare community at large.
Particularly in patients with advanced disease, a comprehensive program that provides any improvement in quality of life should be used.
11/3/06 10:51 JR